Warren Grimes
1st Degree Black Belt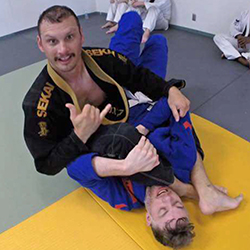 Interview
I started judo in Hawaii at Salt Lake Judo Club when I was about 10, took a break for 30 years came back.
I started BJJ 3 years ago and I am loving it!
My style is unorthodox, creative, imaginative.
I love to see my plaques awarded at the Shiai and to see the smiles on the winners' faces!
My favorite dojo memories include the barbecues and Sensei Roy's stories.

Other Stuff
I love my family and my dojo family.
I am a retired US Coast Guard.
I do custom laser engraving.
I like In-n-Out Burgers and a good Philly cheese steak. Oh and good Chinese food!
I like the movie "North Shore".