Andrew Hung
Senior Instructor
3rd Degree Black Belt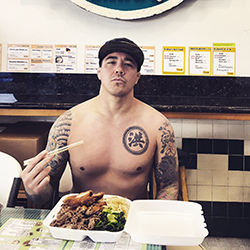 Andy has been involved in Judo for over 19 years. As a youth he lead his high school to a State Title as the Varsity Team Captain, while also claiming an individual championship medal for himself. Immediately upon graduating, his love for Judo competition took him directly to the Olympic Judo Training Center at San Jose State University.
By his sophomore year, his diligence to the sport and commitment to the team earned him the prestigious honor of Team Captain. The years spent at the OTC gave him the opportunity to train and compete worldwide at the highest level of competition, his most memorable being a post-training camp after the German Open. He completed his competition tour with medals at the 2008 Beijing Olympic Trials, US Open and Senior Nationals.
After receiving his B.S. in Business from SJSU in 2010, he set his sight up north to join his brother and former Judo coach in Portland, Oregon.
Interview
Describe yourself in a few sentences
I'm an ambitious individual who enjoys spending my time with motivated movers and shakers. I can't sit still and love working either on growing myself, judo or jiu jitsu techniques, or at my shop Dojo Outfitters. Night owl who goes to sleep around 12-2am every night.
How did you get in to Judo?  
Judo: When I was 13 my brother joined his High School Judo team where Sensei Roy was coaching. He told me I had to join too and started training with the High Schoolers while still in 8th grade. I haven't stopped since. 


What does Judo mean to you? 
The pursuit of Mastery in all aspects of both judo and jiu jitsu is something I dedicated my life to. These disciplines give my life meaning and purpose above everything else. 


Describe your Judo teaching style.
I like to believe I walk a fine line of a lax judo atmosphere combined with a strict jiu jitsu structure. I try to run my class in a way that I would enjoy attending it, which includes covering the 3 aspects I believe are crucial to both disciplines: Mental, Physical, and Technical. 


Describe your Judo competition style.
While my actual competition days are long behind me, I would have described it as an outlet to prove I was good at something. I was driven and motivated to prove to myself that I could compete with the best, both nationally and internationally. 


Describe your Judo class.
I focus on the 3 aspects I believe exist in both of the disciplines I teach.
Mental: Mental tenacity and grit. Developing an attitude that seeks the hardest path and building the attitude to thrive there. The idea that learning never ends. 
Physical: A certain level of physicality is needed to execute techniques. I emphasize this in all of my classes via movement drills and stamina building exercises.
Technical: Development of various techniques to tactically break down your opponent. 
 
What is your favorite technique?
I love shimewaza techniques. It is my goal to not only be a newaza specialist, but to also develop an absolute mastery of chokes and strangles. Osoto gari and Kata guruma too. 


What advice would you give your beginner White belt self?
1. Realize that this is your lifelong calling. Develop patience in all aspects of your life.
2. Focus on your recovery from training sessions and injuries. You won't be 13 forever.
3. Realize that there are both positive and negative experiences in this journey and attempt to view them as one overall experience rather than categorize them.


What is your favorite memory of Portland Judo?
At the first dojo we had a Wednesday night, 9:30-11pm class. When people would actually attend it, I knew we had something special.
 
What would you consider one of your greatest weaknesses and what are you doing to remedy it?
I am constantly reminding myself to combat selfishness. I try to remedy this fault by giving myself to others in anyway that can positively affect their lives. Knowledge follows the realization of ignorance. 
Other Stuff
My biggest accomplishment is
Living a life that attempts to maximize my capacity

My indulgence
Coffee and chocolate

My first plane ride
I think it was to Maui
 
My best cold remedy
Not to get sick in the first place! Wash your hands often and don't touch your face. Drink plenty of water. 
 
My best travel memory
Visiting the Big Island with my girlfriend Danielle
 
My signature potluck dish
A bottle of Whisky

My first job was
Unloading 18-wheelers at Toys R Us

My treasured possession
I try to not be too attached to anything. If I had to choose it would be my shop, Dojo Outfitters.
 
My biggest phobia
People finding out what my phobia is to use it against me. Nice try…
 
First song you danced to
I don't dance, I boogie. 
 
The music playing in my car
Rick Ross, 2 Chainz, E-40, Gucci Mane. Mostly Rap. 
 
The talent I most like to have
The ability to control emotions
 
A marked characteristic of mine
I would assume my relentless in anything I target on.
 
This makes me laugh
Cats doing just about anything
 
What do you collect?
Hotwheels, New Era hats, various techniques, and experiences
 
Do you own a pet?
A stuffed cat named Hoolihan. I rescued him from my brother who was going to throw him away in the trash. I've had him for about 8 years now. 

Your hashtag would be
#dojooutfitters

Do you speak any other language(s)?
Ho, da kine, Hawaiian Pidgin laddat. 
 
What embarrasses you?
I get embarrassed when I make mistakes that could have been avoided if I had only slowed down and thought about the situation more.

Favorites
Midnight Snack
Peanut Butter and a protein shake
 
Hangout in Portland
Coffee shops, all of them
 
Website
www.dojooutfitters.com

Movie
Jurassic Park and Casino

Pizza Topping
Chicken
 
Book
Mastery by Robert Greene
 
Music
Southern Rap
 
TV Show
The First 48 or Forensic Files
 
Place to Travel in Oregon
I usually stay in town and run in the same circle.
 
Hobby
I like to design headwear and watch elite level boxing.

Drink  
Whiskey on the rocks or nonfat milk

Ice Cream
Chocolate Chip Cookie dough

Sports Team
New York Giants
 
Stress Reliever
Physically working out, reading or listening to an audio book, working at Dojo Outfitters
 
Candy
Snickers
 
Breakfast Cereal
Liquid protein shake or a hearty granola
 
Supermarket Aisle
Adult Nutrition 

Holiday
The last 3 Winter months. Halloween, Thanksgiving, and Christmas. 
 
Instant Food
MusclePharm XL Meal Replacement Bar

Exercise
Jiu jitsu, judo, HIIT workouts
 
Sports
Judo, jiu jitsu, football
 
Instagramer
hosico_cat, 524K followers can't be wrong
 
Sushi Order
Avocado Rolls

Restaurant in Portland
King Burrito off Lombard in North Portland
 
Video Game
Madden 2017
Mode of Transportation
I like to ride boats