Rebeca Marquez
Instructor : Saturday Kids Judo
1st Degree Black Belt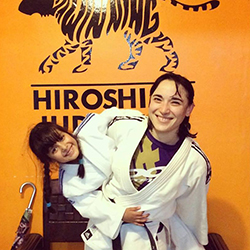 Interview
How did you get in to Judo? 
I started judo when I was 6 years old, my mom would take my brother to class and I just jumped in! He ended up quitting and I ended up loving it!
 
What does Judo mean to you? 
Judo has always been like my home.  Judo has taught me to be perseverant, respectful, determinant and humble.
 
Describe your Judo teaching style.
I like practicing Judo Fundamentals, exercises for strength, balance and coordination and lots of repetition.
 
Describe your Judo competition style.
I'm aggressive and competitive. (hahaha) I really am. This is the only time when I feel completely focused.  I don't think about anything else than that moment. I started competing when I was 6 years old and I loved to win, still do! However, I have learned so much more meaningful things when I have lost.
 
Describe your Judo class.
We practice Judo Fundamentals. I try to make my class dynamic, structured and fun!
 
What is your favorite technique?
Seoinage
 
What advice would you give your beginner White belt self?
To have fun, be patient and to listen to your Sensei!
 
What is your favorite memory of Portland Judo?
That's a hard one, I have too many! I can't pick one. Receiving my Shodan, running in the beach with Sensei Roy on his 50th birthday, and Sensei Roy and Andy's 2016 Luau Performance (That was the funniest thing I have ever seen)!!!
 
What would you consider one of your greatest weaknesses and what are you doing to remedy it?
I'm insecure and have a hard time speaking in public, especially in English (It's my second language). I practice a lot at work, I write down my ideas and try to make sense of them before expressing them.

Other Stuff
My biggest accomplishment
Moving to Portland all by myself without knowing anyone 
My indulgence
Dark Chocolate and Pan Dulce
My first plane ride was to
Can't remember I was a baby
My best cold remedy  
Pho and ginger tea with honey and lime
My best travel memory
Isla Mujeres
My signature potluck dish
Flan
My first job
I baked bread and sold it with my brother
My treasured possession
My family pictures
My biggest phobia  
Losing my dog
First song you danced to 
Bad, Michael Jackson. I was like one year old and was on my mom's shoulders
The music playing in my car
Latin Reggae
This makes me laugh
My Mom
Do you own a pet?
My pitbull Camelia
Do you speak any other language(s)?
Spanish

Favorites
Midnight Snack
Peanut butter apple
Hangout in Portland
The Dojo
Movie
The Motorcycle Diaries
Pizza Topping
Pesto
Book
El Amor en Tiempos de Colera by Gabriel Garcia Marquez
Music
Latin Reggae, Salsa and Hip Hop
TV Show
Dexter
Place to Travel in Oregon
So far, the coast, but I haven't had enough time to explore.
Hobby
Baking
Drink
Cappuccino
Ice Cream
Tillamook Peanut Butter
Stress Reliever
Going on a long walk with my dog to the Riverfront.
Candy
Mazapanes (Peanuts and sugar!)
Breakfast Cereal 
I make my oatmeal
Holiday
Dia de los Muertos, Day of the Death (Mexico) 
Exercise
Judo and conditioning
Sports
Only judo
Sushi Order
Spicy tuna
Restaurant in Portland
I don't know which one is my favorite!
Mode of Transportation
Car, I wish I could bike, walk and use more public transportation.
Other things you love:
Portland Judo! my work, my friends, learning new things, foreign accents, traveling, the beach, foreign movies, cooking and learning about other cultures.