Michael White
1st Degree Black Belt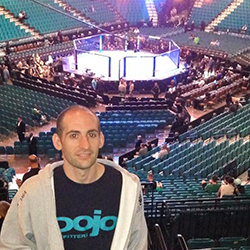 Interview
Describe yourself in a few sentences.
I enjoy judo and weightlifting as they both involve picking up and controlling heavy objects.
How did you get in to Judo?
I was really fascinated by the competition/sporting aspect of judo. As you get older, the opportunities to compete in a physical activity are pretty scarce. I loved the idea of having a "date on the calendar" where I can work hard, manage my weight, and compete against other people who love the sport
Describe your Judo teaching style.
I like to keep it simple. One thing about judo (versus BJJ; which I also love but unfortunately don't have occasion to train much anymore) is that you can really develop your game around a few techniques. Find a few techniques that work for you and implement your entire game plan around those techniques (get your grip and look to attack).
Describe your Judo competition style.
Grip and shoot. I look to win the match on the feet and don't spend too much time in ne-waza (e.g I don't try to attack the opponent's turtle.) Defensive matwork to get back to standing, look to throw for ippon.
What is your favorite technique?
O Soto Gari
What is your favorite memory of Portland Judo/PDXBJJ?
My shark tank for blue belt (BJJ) was unforgettable. It's a great tradition we have.
What would you consider one of your greatest weaknesses and what are you doing to remedy it?
I don't have much of an attacking style on the ground. Training more BJJ would be a perfect way to remedy that, but unfortunately that's not an option for me right now.
Other Stuff
My biggest accomplishment
Adopting my son
My best travel memory
Costa Rica with my wife in 2015
My signature potluck dish
Buying cookies from the store
My first job
I was a veterinary technician in high school (holding dogs and cats while they got their shots.) At the time I wanted to be a veterinarian. I learned quickly that I was allergic to cats
Do you own a pet?
Chocolate Labrador named Winston
Hangout in Portland
Tom's Pizza
Pizza topping
Chicken
Place to Travel in Oregon
Bend
Hobby
Judo
Drink
Water
Sports Team
Los Angeles Dodgers
Stress Reliever
Weightlifting
Holiday
Thanksgiving
Sports
Baseball