Jason Kundell
1st Degree Black Belt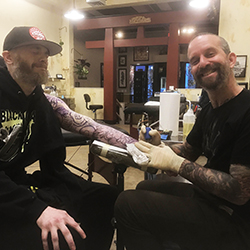 Jason Kundell is a black belt at Portland Judo and a brown belt in Brazilian Jiu Jitsu (BJJ) from Nemesis Jiu Jitsu. He has been in judo since 1995 and in BJJ since 2003. If you can say one thing about Jason, it is that he is a slow learner! If you could say two things, you would add that he is incredibly persistent. Probably a better attribute then the previous.
Interview
Describe your Judo style?
I really try to preach consistency both with my own training and teaching. If there is one thing I have learned over all these years is that there is so much to learn! I feel that I can still get better and learn more about the throws that I have been working on for over 2 decades.
What is your favorite technique?
My favorite technique is harai tsurikomi ashi, although it is not my best technique. Best throw would probably be harai goshi.
What is your favorite thing about Portland Judo?
My favorite thing about Portland Judo is the great sense of community and family that they have for everyone. From all of the summer luaus to all of the holiday parties, they really do a good job of making everyone feel like family.
My indulgence
Blueberries and cereal at the end of the night.
My favorite restaurant in Portland
Ataula
My favorite kind of food
Vietnamese
My favorite movie
Time bandits
What would you consider one of your greatest weaknesses?
One of my greatest weaknesses is my patience. I have been fighting with it my whole life. My other pretty big weakness is my lack of flexibility. Both of which I'm making feeble attempts to do better at.
Testimonials
"Best looking baby!"
-Mom
"Most amazing Dad ever!"
-Jade, Lula , Addy, Bernadette (Kundell kids)
"Handsomest dude in Portland."
-Erin Kundell (wife)
"Uke of the year!"
-Tuesday Thursday morning judo class *
"Unbelievably gifted at teaching!"
-Sensei Andy **
"Oregon's most modest"
-Jason Kundell
Editor's Note:
* Indicates that it may or may not have been said.
** Indicates that it probably was not said, although, most certainly implied. At least in Jason's mind.