Elan Adre
Instructor : Saturday Morning Adults
1st Degree Black Belt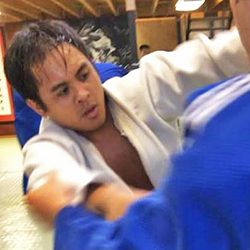 Interview
Describe your Judo class
I like to focus on conditioning and uchikomi/nagekomi in the first half, then technique and randori in the second with a dash of humor.
What is your favorite technique?
Seoi Nage
What advice would you give your beginner White Belt self?
Ukemi protects you, not the person you fall on =)
My best travel memory is
Touring Japan with my better half.
Do you own a pet?
Cat named Taki, She's the best.
Midnight Snack
Sushi
Sushi Order
Maguro
Drinks
Common's Urban Farmhouse
Video Game
Too many…currently Overwatch. All Time: Metal Gear Solid series
Stress Reliever
Judo of course