Roy Kawaji
Head Sensei
5th Degree Black Belt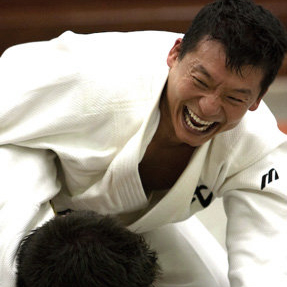 Interview
How did you get started in Judo?  
I wandered into a Judo dojo by myself when I was a little kid. Someone put a tiny worn gi on me and told me to get in. I got my butt kicked. I showed up the next day and said, "Again!"
 
Describe your Judo competition style.
I cannot recall ever focusing on winning a tournament. I loved to compete. It was part of my life. Just get in and fight.
 
Describe your Judo class.
We have fun, but it is very structured.
 
What advice would you give your beginner White belt self?
I was very young. I never complained. I never quit. My belt never came off. So, I would tell myself, "You're doing fine. Stick with it." 
What would you consider one of your greatest weaknesses and what are you doing to remedy it?
I'm impatient. I don't plan on remedying it. Just kidding… I struggle with it every day. It has helped me in many ways to get things done though.
 
My biggest accomplishment is
Finding someone to share my life with and not messing it up.
My best travel memory is
Switzerland
My first job was
Dole Pineapple Cannery
My biggest phobia is
Things on the road when I drive. Even plastic bags floating around.
The music playing in my car is
Country
The talent I most like to have is
To be able to sing
This makes me laugh
People falling in public places
What embarrasses you?
Myself.
  
Midnight Snack
Frozen blueberries
Drinks
Strong black coffee, Asahi Super Dry
Supermarket Aisle
Seafood (for perusing, so expensive). Produce aisle for purchase.
Video Game
Galaxian or Tempest
                   
Mode of Transportation
Being driven, passenger seat, window down.

Testimonial
(By Professor Kevin Asano)
"Roy Kawaji has been involved with every aspect of Judo for the past 40 years.
He is possibly most remembered for changing the landscape of high school Judo competition in Hawaii. Overnight, he created a high school Judo powerhouse that went on to finish dominating seasons year after year. He later solidified his illustrious coaching career by becoming certified in all three branches of service as a Nationally Certified Coach, National Referee and Kata Judge. He currently sits on the Executive Committee of the United States Judo Federation as Assistant to the President.
Although he had spent most of his childhood as a fierce competitor, the decades following were dedicated to studying the philosophy of Judo. This combination has given him the rare ability to share his knowledge and experience to his class with amazing clarity. The sheer number of students and instructors who credit him for their love of Judo, is hard to match.
On my journey around the globe, en route to medaling at the World Games and Olympics, I had the opportunity to experience the best teachers in the world and I can honestly say that Roy Kawaji ranks with the best of them."
(Kevin Asano is an Olympic Silver medalist and World Bronze medalist. He was named the US Judo Athlete of the Year by the US Olympic Committee and was inducted into the US Judo Hall of Fame in 2008.)